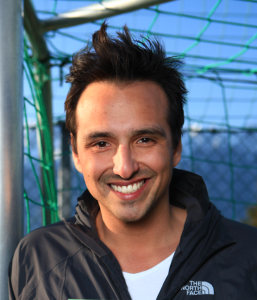 Tour Director Spotlight – Meet Andreas!
AESU is very proud of our Tour Directors. They are native Europeans who speak multiple languages and are well versed in European history and culture. Our spring/summer tour season is quickly approaching, and our tour directors are anticipating some amazing experiences and are excited to soon be meeting their new travelers! Today we introduce you to Andreas, one of our star tour directors who will be leading some of the trips this year.
Andreas was born in Innsbruck, Austria. As his mother is Peruvian, he grew up bilingually.  Having parents from two very different cultures is one of the reasons his favorite hobby became travelling, which allowed him to learn about other people and cultures and understand their diverse ways of life. While all of our tour directors speak several languages, Andreas is fluent in German, Spanish, English, and Italian, has a basic knowledge of French, and recently completed a semester-long language course in Arabic! He has also received a Master's Degree in International Business from the University of Innsbruck in Austria. While there, he co-founded a sustainable development agency that aimed to connect Austrian and Mexican universities to promote scientific exchange with a focus on sustainability in "El Mundo Maya" in Yucatan, Mexico. Andreas is now working on a Postgraduate degree in Digital Marketing in London, which he will complete in October of this year.
When Andreas is not leading tours for AESU, he spends his time as an event organizer, planning a variety of events from soccer tournaments, benefits for paraplegic, as well as Salsa congresses, where he plays as a DJ. He also coordinates and supports Social Media activities for several companies. Whew, what a busy guy!
Andreas has graciously shared with us a sneak-peek Tour Director's insider guide to travel, to prepare you for your upcoming trip:
#1 Top Travel Tip: Try to learn a few phrases in the local language: hello, please, thank you, I'm sorry – you will be rewarded and get a smile from the locals.
Favorite Travel Destination: Florence
Best Travel Story: "There was a couple on one of my tours a few years ago. They had been together for several years and still very enamored with one another. So, everybody in the group expected him to propose. After leaving Paris and Venice – obviously the most romantic cities on the trip – she still had no ring on her finger. Finally, in Poros, he took her up a hill and proposed during sunrise. Half of the group had tears in their eyes and everybody was so happy!"
What a touching story! Anything can happen on an AESU trip to Europe….I hope yours is now booked and you are preparing to pack your bags and head off to meet your fantastic European Tour Director!
Click Here to get highlights on a few of our other AESU Tour Directors.
Don't forget to check out all of our great Travel Tips, especially the Travel Tips for Europe, before you head overseas.
AESU Travel with a Purpose since 1977
For over 36 years, AESU has been the most trusted name in travel, offered unique, exciting travel programs for college students and young professionals. Join AESU for the excitement and adventure of a lifetime.
If you have any questions, please contact AESU by calling 800-638-7640 or fill out the contact form found on our website.
Travel with us on Facebook, Twitter, LinkedIn, Google+, and Pinterest.