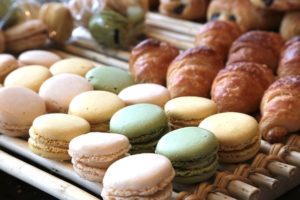 An icon of French patisserie culture, the macaron is composed of a pair of delicate meringue cookies with a filling in between. No visit to a French bakery would be complete without experiencing the numerous colors and flavors of these petit treats. If you have ever wondered how macarons became such an integral part of French cuisine, read on for a brief history of the macaron.
Italian Origins
Macarons originated in Italy in a much simpler form than their modern version. These cookies were made of the same basic ingredients of a meringue of sugar, egg whites, and almond powder, but they weren't as light and crisp. The introduction of macarons to France is credited to Catherine de' Medici. She was an Italian noblewoman engaged to marry King Henry II of France, and it is believed that she brought the tradition of macarons from Italy in 1533.
Ladurée Pastries
Macarons remained in their traditional configuration for several decades. It wasn't until toward the beginning of the twentieth century that innovations turned the macaron into the colorful jewel of flavor that it is today, and that is largely thanks to La Maison Ladurée (Ladurée pastries). At this renowned French bakery, Pierre Desfontaines, a descendant of founder Louis Ernest Ladurée, had the idea to begin sandwiching the macaron cookies with different fillings. From ganache to buttercream and even fruit jams and compotes, this simple addition opened a new world for turning a humble cookie into an artistic expression.
National Macaron Day
In France, macarons took on such high popularity that gradually spread across the world. Many locals would agree that France still produces the best macarons of all. Macarons became such a national culinary treasure that a confectioner in Paris, La Maison Pierre Hermé, established National Macaron Day on March 20, 2005, which is even celebrated in the US.
Explore the World with AESU!
Are you ready to plan an adventure of a lifetime? AESU offers unique, thrilling travel programs for college students and young professionals at affordable rates. Each trip is action-packed and informal—designed just for people your own age. We are also able to design custom tours just for your group.
Looking to travel in 2020? Experience an exhilarating adventure on the Exotic Egypt tour, the Iceland Airwaves tours, and more! 
2021 tour dates are now available! If you have any questions or want help booking your European adventure, please contact AESU by calling 800-638-7640, or fill out the contact form found on our website. Follow AESU on Facebook, Twitter, LinkedIn, and Pinterest.