Last week we learned about the terrifying Krampus. This week we will be taking a look at how Greeks celebrate the Christmas holidays! In Greece, St. Nicholas is the patron saint of sailors. In Thessaloniki, Greece's second largest city, the main square is decorated with a huge Christmas tree and a three masted sailboat. The holidays in Greece last from December 25 to January 6, the Epiphany including January 1, Saint Basil's Day.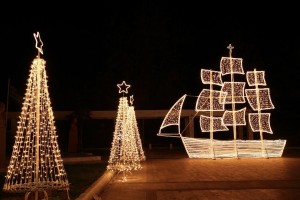 Killantzaroi, or little goblins, are said to emerge from the middle of the earth and wreck havoc in households. They are thought to gain access to the houses by sneaking through chimneys. Killantzaroi only appear in the 12 days between Christmas and the Epiphany. They are said to sour milk, extinguish the fire in hearths, and braid horses tails. In order to ward off these little goblins, households keep fired burning for the 12 days straight.
On Christmas Eve, children go from house to house and sing Kalanda and offer good wishes. The children often use metal triangles and small drums to add to their songs. At the end of every song, children add the following lyrics:
In this house we have come
No stone may ever crack
And the landlord
May live for many years.
Greeks celebrate 40 days of fasting. They go to midnight mass on Christmas Eve and on Christmas they have a Christmas feast with family and friends, marking the end of their fasting. Traditional foods at the feast include lamb and pork. Christopsomo is a table decoration that is sweet bread that is decorated according to each family's profession. For example, if your family fishes, there will be fish.
In addition to receiving presents on Christmas Day, Greek's also receive presents from Aghios Vassilis or Saint Basil on January 1st, also known as Saint Basil's Day. The Epiphany or 'Blessing of the waters' is celebrated by diving into lakes and rivers, blessing boats, dancing, and feasting.
Καλά Χριστούγεννα or Kala Christougenna!
AESU Travel with a Purpose since 1977
Be sure to check out all of our great Travel Tips for Europe
Our 2014 trip dates have early bird discounts of up to $250 if you book and pay by January 31st. So, what are you waiting for?