Tis the season for the excitement of Christmas! The promise of family, presents, and all around joy makes the season a festive one. Every week leading up to Christmas Eve, we will be posting about European Christmas traditions to help you get in the holiday spirit! Christmas Markets started us off last week, this week we explore the slightly more sinister side of Christmas – Krampus.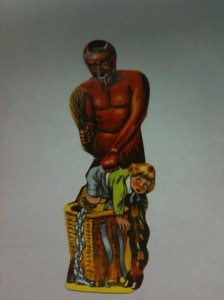 Santa Claus, or St Nicholas, stands for all that is good in the world. It is disappointing that he only makes an appearance once a year yet this is surely how he keeps the true spirit of Christmas alive. On the other hand, it is a good thing that Krampus makes only one appearance a year. Krampus is the counterpart to Santa Claus. He is a devil figure that scares naughty children back onto the path of good behavior. The legend originated in European Alpine folklore where he would descend from the mountains. Most commonly, he is a devil with hooves, horns, and an amazing tongue. He also is sometimes portrayed as a sinister hairy man-beast. The name Krampus comes from an old German word for claw, 'Krampen'.
Krampus comes to town on December 5th, the eve of Saint Nicholas Day. Sometimes Krampus appears with Saint Nicholas. Saint Nicholas rewards nice children with chocolates while Krampus punishes the naughty ones with a switch. In cases involving very naughty children, they would be carried away in a basket that Krampus carries with him. Krampusnacht, December 5, is a highly celebrated night where people dress up and participate in the Krampuslauf, or Krampus run, where they scare the young kids back to being good. Once they have completed their tasks, the Krampus impersonators are rewarded with beer and schnapps.
While Krampus descends from mountain caves in Austria, Bavaria, and Northern Italy, other places in Europe have Knecht Ruprecht. On the evening of December 5, children put their boots outside their bedroom door so that Saint Nicholas can put chocolate in their boots if they were good. If the children were bad, Knecht Ruprecht would put a switch in their boots, warning them to behave better. He is a nicer version of Krampus!
I hope everybody was good this year!
Gruß vom Krampus – Greetings from Krampus
AESU Travel with a Purpose since 1977
Be sure to check out all of our great Travel Tips for Europe
Our 2014 trip dates have early bird discounts of up to $300 if you book and pay by December 6th. So, what are you waiting for?