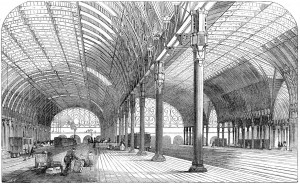 Created by Michael Bond almost 60 years ago, Paddington Bear has brought smiles to the faces of millions of children worldwide. His books have sold more than 35 million copies and have been translated into over 40 languages. Odds are that Paddington Bear has touched your life in one way or another. So if you love this adorable little bear as much as he loves marmalade, you need to visit London and explore the Paddington Bear Trail.
AESU can help make those dreams come true. Book a Discount London Vacation with us and be well on your way to exploring the Paddington Bear Trail for yourself. Click Here to find a trip that is right for you.
About the Paddington Bear Trail
The Paddington Bear Trail, presented by the National Society for the Prevention of Cruelty to Children (NSPCC) and STUDIOCANAL, is a celebration of London's art, culture, and innovation…and the release of Paddington the movie. 50 Paddington Bears statues will be placed throughout the capital, each designed by famous artists, designers, and celebrities, including David Beckham, Benedict Cumberbatch, Nicole Kidman, Guy Ritchie, and Emma Watson, just to name a few. Each statue will be auctioned off by the NSPCC, with the proceeds going to charity.
"Paddington is an explorer – this trail is a wonderful way of bringing this to life and I hope it makes people look at London with fresh eyes," said actor Hugh Bonneville, who stars in Paddington.
From November 4th to December 30th, visitors will be able to follow their favorite explorer across London, visiting museums, parks, shops, and landmarks along the way. Some of the stops include The Royal Opera House, the Museum of Childhood, the Museum of London, Paddington Station (of course!), and so much more.
"It's going to be wonderful to see two iconic British institutions – Paddington Bear and the NSPCC – coming together against the backdrop of this wonderful city, to raise vital funds for vulnerable children and their families," said Peter Wanless, CEO of the NSPCC.
AESU Discount London Vacation
AESU, the most trusted name in travel, offers unique, exciting travel programs for college students and young professionals at affordable rates. Each trip is action-packed and informal—designed just for people your own age. We are also able to design custom tours just for your group.
AESU offers several trips to London: Euro Spree, Great Escape, Euro Focus, Explorer, and Cosmopolitan.
Want help booking a Discount London Vacation? Please contact AESU by calling 800-638-7640 or fill out the contact form found on our website. And don't forget to check out all of our great Travel Tips, especially the Travel Tips for Europe, before you head overseas.
Travel with us on Facebook, Twitter, LinkedIn, Google+, and Pinterest.