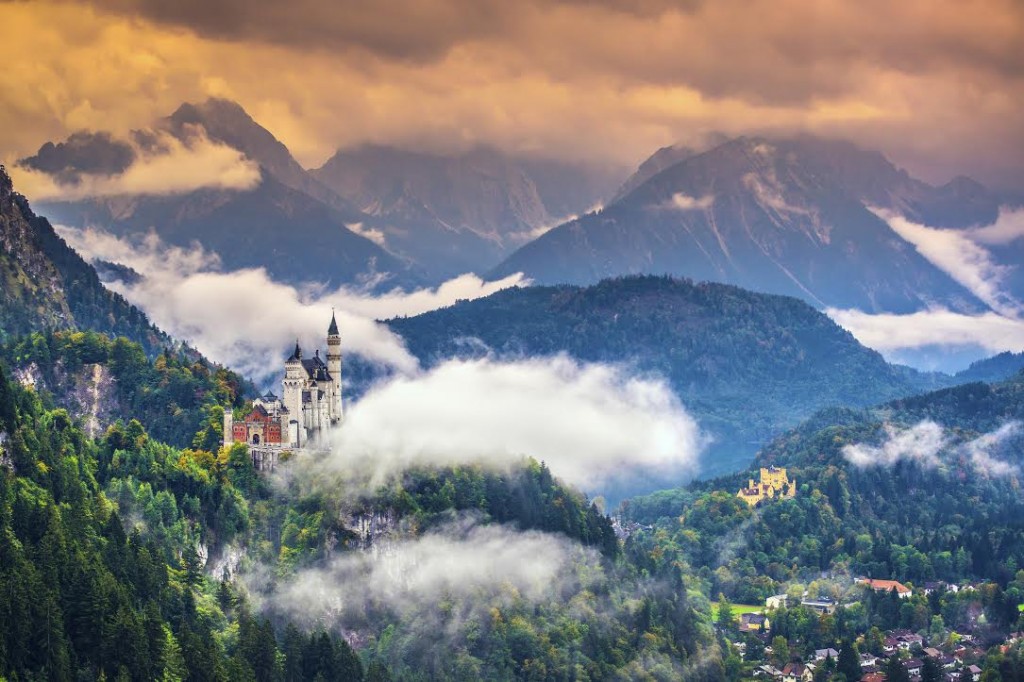 Neuschwanstein Castle in Germany is not only one of the most visited castles in the entire country, but also one of the most popular tourist destinations in all of Europe. If Neuschwanstein Castle is on your bucket list, AESU can help turn your dreams into reality with one of our Affordable German Vacations. Click Here to find a trip that is right for you.
The History of Neuschwanstein Castle
Located in Bavaria, Neuschwanstein Castle was built by King Ludwig II, also known as the "Fairytale King." As you can probably imagine, a king with such a nickname designed a pretty whimsical castle. And because it was built in the 19th century (construction began in 1869), when castles no longer had strategic and defensive purposes, the castle's location was chosen more for aesthetic appeal than military fortification. It is located in the Alps, overlooking the Hohenschwangau valley.
Building a castle in the 19th century also had another benefit: technology. In fact, the interior is equipped with state-of-the-art technology. Well, state-of-the-art technology at the time of the castle's construction: indoor plumbing and an air heating system.
Talk about living like a king!
Other fantastical amenities include:
A beautiful inner garden surrounded by a walled courtyard.
A two-story throne room.
The Singers Hall, which occupies the entire fourth floor, contains characters from renowned composer Richard Wagner's operas. In fact, Neuschwanstein Castle was built in Wagner's honor.
The castle took nearly 20 years to complete and was not finished even at Ludwig's death in 1886.
Explore Neuschwanstein Castle
Several weeks after King Ludwig II's death, the castle was first opened to the public. Today Neuschwanstein Castle is the most visited castle in Germany, and one of the most popular tourist destinations in the world, drawing more than 1,300,000 people annually.
Neuschwanstein Castle is open daily, except for January 1st and December 24th, 25th, and 31st.
Affordable German Vacations with AESU
AESU, the most trusted name in travel, offers unique, exciting travel programs for college students and young professionals at affordable rates. Each trip is action-packed and informal—designed just for people your own age. We are also able to design custom tours just for your group.
AESU offers several trips to Germany: Euro Focus, Great Escape, and Euro Spree.
Book your tour before December 5th and save up to $300!
Want help booking one of our Affordable German Vacations? Please contact AESU by calling 800-638-7640 or fill out the contact form found on our website. And don't forget to check out all of our great Travel Tips, especially the Travel Tips for Europe, before you head overseas.
Travel with us on Facebook, Twitter, LinkedIn, Google+, and Pinterest.