Your trip to Europe is leaving in a couple months and I bet you are getting very excited! You may be starting to research the places you are going but haven't nailed down exactly what you would like to see while you are in each city. While it may not be easy to find a travel book shop like Hugh Grant's in Notting Hill, we are here to help! Here are some of our favorite travel guides and books to help you discover which sites you may want to see on your first trip to Europe.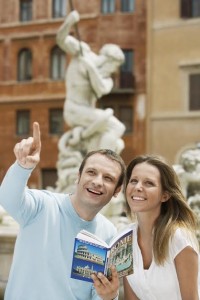 The following books provide a great overview of Europe:
Let's Go Europe 2014: The Student Travel Guide – The 'Let's Go' series is written by Harvard undergrads as they adventure across the world. They provide information for that you must see and famous sights that they think you can skip.
Rick Steves' Best of Europe 2014 – When you hear the name Rick Steves', you think travel. Rick Steves' has been traveling since 1969 and has been producing travel books since 1976. He is one of the most trusted names in the travel industry.
Frommer's Europe – Another name that is synonymous with travel is Frommer's. This book breaks down each area for you and includes an easy to read map. It also includes information about possible excursions to sights you may want to see from major cities.
Lonely Planet Discover Europe – This Lonely Planet travel guide includes color maps for almost every city it covers. It also includes calendars that highlight important festivals and holidays that you may or may not want to see. It includes great information about how to avoid crowds and information about the highlights of each country.
If you are going to be in certain cities for short periods of time, try the books below. They offer great information for the top destinations/attractions of major cities!
DK Eyewitness Top 10 Travel Guide – A great little guide that gives you information about the top 10 attractions of a particular city. This book also provides information about things to do with kids, places to eat, where to shop, a list of useful phrases, etc.
DK Eyewitness Pocket Map and Guide – The Pocket Map and Guide provides more information about major sights in cities than the Top 10 Travel Guide. It includes a breakdown neighborhood by neighborhood ensuring you don't miss the perfect coffee shop, pastries, shops, etc in each area.
The Little Black Book of Paris – Vesna Neskow has created 'The Little Black Book' series for London, Paris, Rome and  Tuscany/Florence. These books provide maps and information neighborhood by neighborhood.
Stop dreaming and start planning today!
Exciting destinations we offer guided travel to in Europe:
AESU Travel with a Purpose since 1977
Be sure to check out all of our great Travel Tips and the Travel Tips for Europe before you head overseas.
Our 2014 trip dates have been posted. Take a friend and both of you get $100 off certain AESU tours! Take a look at our deals page to see what other great offers we have! So, what are you waiting for? The trip of a lifetime awaits you.
Travel with us on Facebook, Twitter, LinkedIn, Google+ or Pinterest.