It's questionable whether Mark Twain has ever said the following, but undoubtedly it has become one of our tour director's motto ever since she came across it:
"Twenty years from now you will be more disappointed by the things you didn't do than by the ones you did do. So throw off the bowlines. Sail away from the safe harbor. Catch the trade winds in your sails. Explore. Dream. Discover."
About Doris
Doris was born in Vienna, Austria. Early on she developed an interest in the English language – with it a constant desire to explore the world. She was soon off to working in London for a year. Extended family also brought her to the US frequently.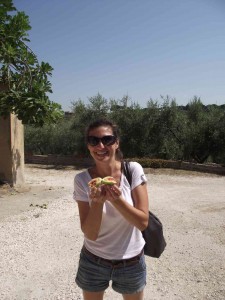 Shortly after, she went to study a Master's Degree in Tourism and Leisure Management at the International Management Center Krems – an Austrian University with an international focus. She spent a semester abroad in France and a semester in Spain and Denmark for further internships. Starting off her career in Finance, she soon realized that her passion is in Tourism.
Over the past 15 years she's been working in the fast paced travel industry around the world  – mainly with AESU. Highly efficient in planning, she has been organizing as well as executing tours and events for AESU. Product design and development; training staff; networking with Universities and scouting new destinations has all been part of her job description. She has a high level of intercultural competences on account of her dedication to traveling and caring for people.
She has traveled multiple times around the globe, for work and for play.
She has also taken clients of all ages around Australia on a Gold Investor's Expedition; through Southern France on a Gourmet trip or focusing on 'Europe in a Nutshell' leading graduation tours. "And I've always kept a personal bucket list and rigorously worked on checking off the goals: -Bungee jumping in South Africa; having a portrait done at the artist's quarter in Montmartre, Paris; learning to surf in Hawaii; practicing the Tango in Buenos Aires; kayaking down the Mekong River; zip lining in Costa Rica; paragliding in Montenegro; swimming with Manatees in Florida; exploring the temples of Angkor Wat and of course eating Gelato in Florence!
When Doris is not leading tours for AESU, she can be found exploring a new country, hiking the forest, meditating or doing yoga. Recently she has returned to her home town of Vienna from where she ventures out regularly.
While all of our tour directors speak several languages, Doris is fluent in German and English, and has a very good working knowledge of Spanish, Italian and French. Currently taking courses in Russian, she has been trying to master this language for years! "It's really a pain!" she says.
Doris is always open to teaching people new vocabulary and also to sharing some insider travel tips to prepare you for your next trip.
Top Travel Tips
> Create your own experience – personalize your trip.
When traveling with a group it's easy to follow the crowd, doing what others suggest and become friends with one another. I think it is essential to create your own experience, personalize your trip and turn your trip into a journey of a lifetime.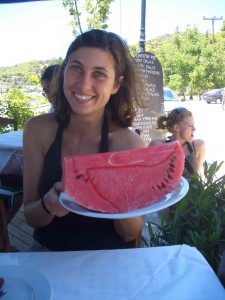 >Learn a couple of words and phrases "hello – please – thank you – yes – no – I like" of each country that you are visiting. It is best done by getting in touch with natives: "How do you say xyz?" Wie sagt man auf Deutsch? Come si dice… in italiano? En français? Don't be shy – just ask them and let them correct you. Don't forget to jot the words down, so you can always fall back on your own personal phrase book.
>Journal – meaningful moments, extraordinary feelings, spontaneous ideas, creative inspirations, (maybe you have that life changing business idea standing on top of the Eiffel Tower or riding a Gondola in Venice) Note it all down!
>Spend time alone to soak in the experience. Bring awareness to your current surroundings.
>Exchange tales and travel tips with other travelers who you meet en route.
>Enjoy the culture shock – it's after all the gateway to expanding your horizon and learning beyond what you think you know.
>An apple a day keeps the doctor away!
Favorite Travel Destination: Greek Islands
Best Travel Story
"One evening I took my group of about 30 students into the town. We were walking the streets of Rome. Suddenly one of the guys started with some rhyming lyrics – a tune, and suddenly rapping. Spontaneously, his new friend next to him stepped in with some beat boxing sounds. No sooner had he started his sounds than the 5 girls behind him offered their background singer voices. The rest of the group would come in formation dancing – we certainly have drawn attention to us on the busy streets of Rome – Flash mobbing a la AESU. Such fun!"
Travel with AESU and start your adventure!
AESU offers unique, thrilling travel programs for college students and young professionals at affordable rates. Each trip is action-packed and informal—designed just for people your own age. We are also able to design custom tours just for your group.
AESU offers several trips to Europe, as well as various other global destinations. Check out our exciting trips here!
And, for a limited time, take a friend and both of you get $100 off certain AESU tours – ask us for details!
If you have any questions or want help booking your Europe adventure, please contact AESU by calling 800-638-7640, or fill out the contact form found on our website!