With today's technology, travelling is a breeze! Everyone should have one packing app and one safety app on their phone, even if the trip is just a few hour drive. That way, your trip is worry free and you're well-prepared.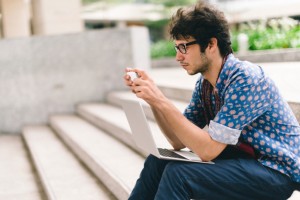 We've compiled a list of some of awesome apps for every traveler, from the adventurer to the occasional visitor!
Powerful packing apps
Packpoint: This app is amazing! Just put in the dates of your trip, the location and your itinerary and Packpoint will give you a packing list. It even checks the weather so you pack the perfect clothing for the weather. Then you can share a link to your packing list with your friends, so that they know what to bring too (and they won't have to borrow your stuff)!
Stylebook: Import pictures of your clothes into this app and it allows you to preplan your outfits. This way you can maximize your mix and match attire, saving you valuable luggage space.
Smart safety apps
Safety Map Worldwide: This app lets locals guide you away from areas that are best avoided. It polls local to create a color-coded map of where you should and should not go.
Bsafe: Your mom will be happy about this app. Keep it open on your phone while you and your friends are walking (never walk alone!). If something happens, hit the Bsafe SOS button and the app will send your location to your contacts so that everyone is in the know.
Triplingo: Triplingo is a great place to learn some basic phrases in each language of the countries you'll be visiting. Use it to learn emergency phrases too! You never know what message you may need to get across.
Travel with AESU and start your adventure!
AESU offers unique, thrilling travel programs for college students and young professionals at affordable rates. Each trip is action-packed and informal—designed just for people your own age. We are also able to design custom tours just for your group.
AESU offers several trips to Europe, as well as various other global destinations. Check out our exciting trips!
And, for a limited time, get up to $550 on your next trip when booked before a certain date with a deposit. Click HERE for more details!
If you have any questions or want help booking your Europe adventure, please contact AESU by calling 800-638-7640, or fill out the contact form found on our website.