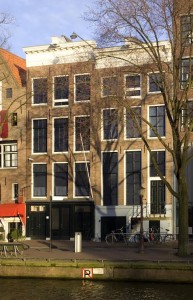 You've probably read Anne Frank's world-famous diary, but do you really know the entirety of her amazing and moving story? The best place to learn more about this remarkable girl's life is by visiting the Anne Frank House, the house where Anne Frank and her family went into hiding to escape from the Nazis in German-occupied Holland. Explore the bustling city of Amsterdam while gaining a deeper appreciation for the history that unfolded right beneath your feet.
The Story of Anne Frank
Anne Frank was the youngest daughter of a Jewish couple who originally lived in Frankfurt, Germany. During World War II, the persecution of Jewish people and the Nazis' rise to power made it necessary for the Frank family to escape and hide away in the Secret Annex, a room in an Amsterdam home that housed both the Franks and another family, the van Pels. While there, Anne kept a diary detailing her life in this uncertain time, giving the world insight to both this period of history at large and into the mind and heart of a unique and brave young girl. She kept the diary until her family's location was eventually betrayed and they were all arrested and deported to Auschwitz.
The Anne Frank House in Amsterdam
In honor of Anne Frank's story, the house where she and her family hid has been transformed into a museum that attracts millions of visitors per year. People who were captivated by Anne's own words in her published diary are given the opportunity to see up close exactly where she lived, as well as to see other artifacts and exhibitions from the World War II period. Relive history along with them when you visit the Anne Frank House in Amsterdam on your AESU European tour!
Find an Affordable European Vacation
AESU, the most trusted name in travel, offers unique, exciting travel programs for college students and young professionals at affordable rates. Each trip is action-packed and informal—designed just for people your own age.
Find an Affordable European Vacation. Please contact AESU by calling 800-638-7640 or fill out the contact form found on our website. And don't forget to check out all of our great Travel Tips, especially theTravel Tips for Europe, before you head overseas.
Travel with us on Facebook, Twitter, LinkedIn, Google+, and Pinterest.