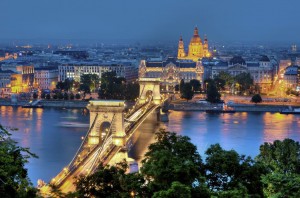 Did you know that Budapest, the capital of Hungary, is home to approximately 200 caves? Well, to be more precise, the caves are located under the city, but that still counts, right? As you can imagine, Budapest has become a favorite stop for both regular and first time cavers. You too can join in on the action on one of AESU's Discount European Vacations, but more on that later. For now, we will explore these caves a little deeper (pun intended).
The caves of Budapest are planned to be a declared part of the UNESCO World Heritage.
Caving under Budapest
At the beginning of the 20th century, construction workers stumbled onto an elaborate system of caves beneath Budapest: 120 km of caves to be exact. Today, nine are strictly protected, while three are open to the public. Two – Pálvölgyi cave and Szemlőhegyi cave – can be visited without previous caving experience.
Pálvölgyi cave 
The 30.1 km long Pálvölgyi cave – the longest cave in Hungary – was discovered in 1904 and quickly opened to the public, who were fascinated by the beautiful stalagmite formations. In 1927, the cave was equipped with electric lights to make exploration even easier for novice cavers. For visitors guided tours, which last roughly 50 minutes, are organized every hour.
Szemlőhegyi cave
Discovered in 1930, the Pálvölgyi cave – also known as the underground flower garden because of its mineral formations, which resemble cauliflower or bunches of grapes – features a concrete path and artificial light, making it ideal for novice cavers, including those in wheelchairs. Like the Pálvölgyi cave, tours are organized every hour.
Go Caving under Budapest on One of AESU's Discount European Vacations
AESU, the most trusted name in travel, offers unique, exciting travel programs for college students and young professionals at affordable rates. Each trip is action-packed and informal—designed just for people your own age.
Young Alumni from the University of North Carolina and University of Texas will be going to Berlin, Prague & Budapest this summer on the Euro Explorer.
If you have any questions about our Discount European Vacations, please contact AESU by calling 800-638-7640 or fill out the contact form found on our website. And don't forget to check out all of our great Travel Tips, especially the Travel Tips for Europe, before you head overseas.
Travel with us on Facebook, Twitter, LinkedIn, Google+, and Pinterest.