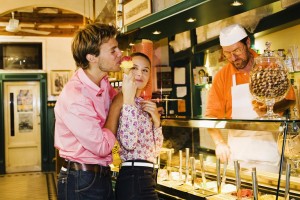 Do you love gelato? Do you love to travel? If you answered "yes" to both questions, you need to try gelato straight from the source: Italy! If you have never had gelato, you do not know what you're missing. Gelato isn't just the Italian word for ice cream; it is a completely different treat all together.
Gelato vs. Ice Cream
For starters, gelato is made with a greater proportion of whole milk to cream, resulting in less fat content. This delicious dessert is also churned slower than ice cream, making gelato denser. In fact, while ice cream contains as much as 50% air, due to its high-speed churning, gelato tends to have just 25-30% air. Finally, gelato is served at a slightly warmer temperature than ice cream, which is traditionally served frozen.
All of these differences result in an intense flavor experience that is second to none. But if you truly want a special experience, you need to try gelato in Italy. You will not be disappointed.
Tips for finding Authentic Gelato in Italy
Color: Avoid gelatos that come in florescent colors. If it looks like it could glow in the dark, question its authenticity.
Freshness: Look for gelato in closed cabinets. This ensures better preservation, because ice creams oxidize in the air.
Taste: Gelato should be creamy and velvety. No ice crystals here!
Visit Rome for Gelato with a Twist!
Rome is known for many things, including its rich history and, you guessed it, delicious gelato. One such Roman shop, Gelateria Fatamorgana (7 Via G. Bettolo, a side street off of Viale Angelico), has taken this Italian treat to a new level, offering such unique flavors as lobster and vodka; wasabi chocolate; pineapple and ginger; and fennel, honey and licorice.  Yum? Don't worry; Fatamorgana also offers the classics for those of us with a slightly less adventurous palate.
AESU offers Affordable European Vacations: Viva Italia!
AESU, the most trusted name in travel, offers unique, exciting travel programs for college students and young professionals at affordable rates. Each trip is action-packed and informal—designed just for people your own age. Our Viva Italia vacation package features 8 days and 6 nights of fun and adventure traveling along Italy's boot, from Venice and Florence, to Rome. Capture the spirit, flavors, and experience that is pure Italian for just $1,380! Click Here to book now!
If you have any questions about our Viva Italia package or any of our other Affordable European Vacations, please contact AESU by calling 800-638-7640 or fill out the contact form found on our website. And don't forget to check out all of our great Travel Tips, especially the Travel Tips for Europe, before you head overseas.
Travel with us on Facebook, Twitter, LinkedIn, Google+, and Pinterest.