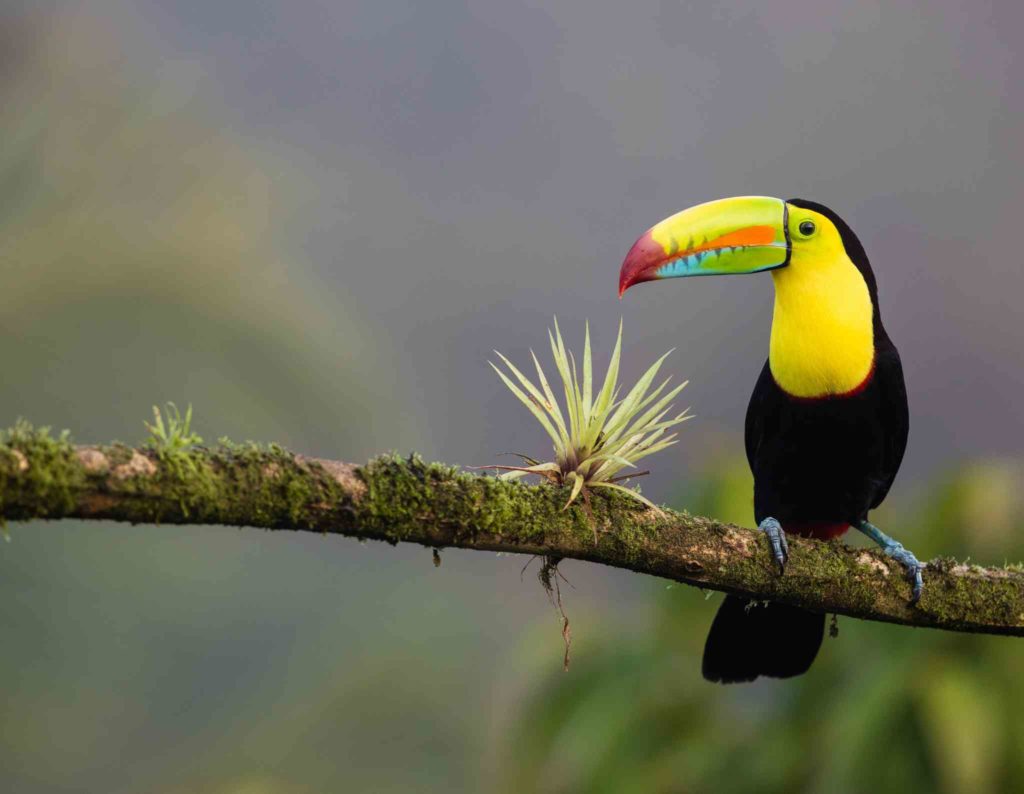 Costa Rica is home to over 500,000 species, representing almost 4% of the total estimated species in the world! More than 25% of the land is dedicated to national parks, reserves, and wildlife refuges in efforts to protect Costa Rica's incredible biodiversity. Travelers and conservationists come from far and wide to study vibrant macaws and ancient sea turtles, and you can explore Costa Rica's vast wildlife for yourself with AESU!
850 Different Bird Species 
Bird-watchers rejoice, Costa Rica has over 850 bird species! This number includes about 600 permanent residents and 200 immigrant species that fly down from North America. The birdlife of Costa Rica ranges in color and size, from the endangered Great Curassow to the Fiery-Throated Hummingbird. Whether you're hiking through the jungle or relaxing on the beach, you're sure to spot several types of birds!
Over 200 Mammals 
About 250 mammals are living in Costa Rica, and over a dozen of them are considered threatened. Wildlife reserves are working hard to ensure the safety of threatened species like the Giant Anteater and the Central American Squirrel Monkey. Wild cats like pumas, margays, ocelots, and jaguars roam the dense rainforests, while the oncilla (small spotted cat) stalks prey in the cloud forests. Other notable Costa Rican mammals include four species of monkeys, two species of sloths, and the white-nosed coati! 
1,200 Species of Butterflies 
10% of the world's known butterfly species live happily in Costa Rica. While butterflies and moths thrive in Costa Rica year-round, they are most prevalent during the rainy season (May through Mid-November). The most famous butterfly species is the Blue Morpho Butterfly, with a wingspan of eight inches! Their bright blue, reflective wings create an enchanting display in light-filled areas of the forest. 
175 Amphibians 
Out of the 175 amphibians that thrive in Costa Rica, 85% of them are frogs. Famous frog species include the Red-Eyed Tree Frog, the Rainforest Rocket Frog, and the Large Smoky Jungle Frog. Other Costa Rican amphibians include Lungless Salamanders and two species of Caecilian. 
Explore Costa Rica with AESU!
AESU offers unique, thrilling travel programs for college students and young professionals at affordable rates. Each trip is action-packed and informal—designed just for people your own age. We are also able to design custom tours just for your group.
Experience an exhilarating, five-day Costa Rican adventure on the Costa Rica Eco Explorer tour! Check out the day-by-day itinerary, and give us a call for more information!  
2019 tour dates and prices are available and selling out quickly! If you have any questions or want help booking your European adventure, please contact AESU by calling 800-638-7640, or fill out the contact form found on our website!