Photography is the classic method for recording your vacation. AESU knows how satisfying snagging the perfect shot is and how an abundance of likes is a necessity on Instagram. So we have compiled a short list of our favorite photography apps to help you enhance how you visually communicate your travels to the world.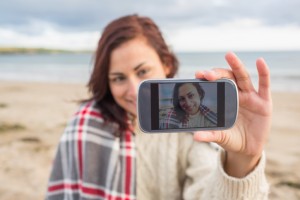 Touchretouch
Travel hotspots can get crowded and waiting for people to clear your frame before you take a picture can be annoying and time consuming. Touchretouch lets you remove those random, selfie-taking strangers from the background your photos, making your photography all about the subject material.
1 Second Everyday
This app takes a one second video clip every day and combines them all into a video. It's a great way to look back on your trip and stir up memories you thought you had forgotten.
Facetune
This app is perfect for travelers who want to be impulsive but also want to keep that Kardashian-level makeup looking flawless. Go ahead! Be spontaneous! Forget about the horrors of running mascara and jump into the Mediterranean! This app allows you to Photoshop makeup on or off of your existing photos before you post them online.
Flic
Photos and videos take up tons of space on your device. Flic takes the boring activity of scrolling through your photo albums and shakes it up by turning it in to a tinder-like experience. This app gives you a quick and easy way to decide which pictures you want to keep or discard, just swipe!
Slow Shutter Cam
Love those artsy pics of the Eiffel Tower bathed in sparkling light? This app will slow down your camera's shutter, allowing more light in and creating fantastic effects. Helpful hint- use a tripod. Because the longer your shutter is open, the more sensitive it will be to movement and your photos could get blurry.
Travel with AESU and start your adventure!
AESU offers unique, thrilling travel programs for college students and young professionals at affordable rates. Each trip is action-packed and informal—designed just for people your own age. We are also able to design custom tours just for your group.
AESU offers several trips to Europe, as well as various other global destinations. Check out our exciting trips here!
And, for a limited time, take a friend and both of you get $100 off certain AESU tours – ask us for details!
If you have any questions or want help booking your Europe adventure, please contact AESU by calling 800-638-7640, or fill out the contact form found on our website!