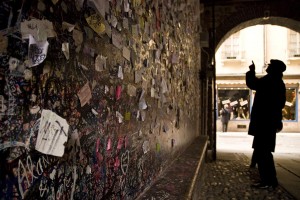 "O Romeo, Romeo! Wherefore art thou Romeo?" Oh, Verona, Italy you say? Thanks!
In case you are unaware, Verona is the setting for the world's most popular (and tragic) love story, Romeo and Juliet. Verona is also the setting for two of Shakespeare's other plays – The Two Gentlemen of Verona and The Taming of the Shrew – but with Valentine's Day right around the corner, we are going to stick to with love. Seems like an appropriate theme for this time of year.
Exploring Verona and Its Connection to Romeo and Juliet
The third largest city in Northeast Italy, Verona has a population of 714,274. And, partially due to its connection to Shakespeare, the city is also one of the largest tourist destinations in Northern Italy. It also doesn't hurt that Verona is home to beautiful architecture, several annual fairs, numerous shows and operas, and the ancient amphitheater built by the Romans. But we are most interested in the city's connection to Romeo and Juliet.
Juliet's House
The house in Verona, better known to most as Juliet's house, dates back to the 13th century, when it was owned by the family Dal Capello. The city of Verona bought Juliet's house from the Dal Capello family in 1905. The famous balcony itself, however, was not added until the 20th century. But that does not stop tourists.
Each and every year, hundreds of thousands of tourists travel to Verona to see the balcony where Juliet stood as Romeo confessed his undying love for her. Who cares if they aren't real people? Who cares if they never really existed? Romeo and Juliet are "alive" in the imaginations of Shakespeare fans across the globe.
Inside Juliet's house you will find a small museum. Outside, in the courtyard, is a bronze statue of Juliet that people often rub for luck. But what is perhaps most noteworthy (pun intended) is the countless love notes stuck on the walls and doors in the entrance of the courtyard. According to popular myth, any couple who writes down their love vows and places them in the wall will stay together for the rest of their lives and will be very happy.
How romantic!
Planning a Romantic Getaway to Beautiful Verona, Italy
AESU, the most trusted name in travel, offers unique, exciting travel programs for college students and young professionals at affordable rates. Each trip is action-packed and informal—designed just for people your own age.
We offer several trips to Italy, including Cosmopolitan, Explorer, Euro Focus, Great Escape, Euro Spree, and obviously Viva Italia. We are also able to design custom tours just for your group. Click Here to take a look at all of our trips!
Happy Valentine's Day from Everyone Here at AESU!
Want help booking one of our Affordable Trips to Europe? Please contact AESU by calling 800-638-7640 or fill out the contact form found on our website. And don't forget to check out all of our great Travel Tips, especially the Travel Tips for Europe, before you head overseas.
Travel with us on Facebook, Twitter, LinkedIn, Google+, and Pinterest.