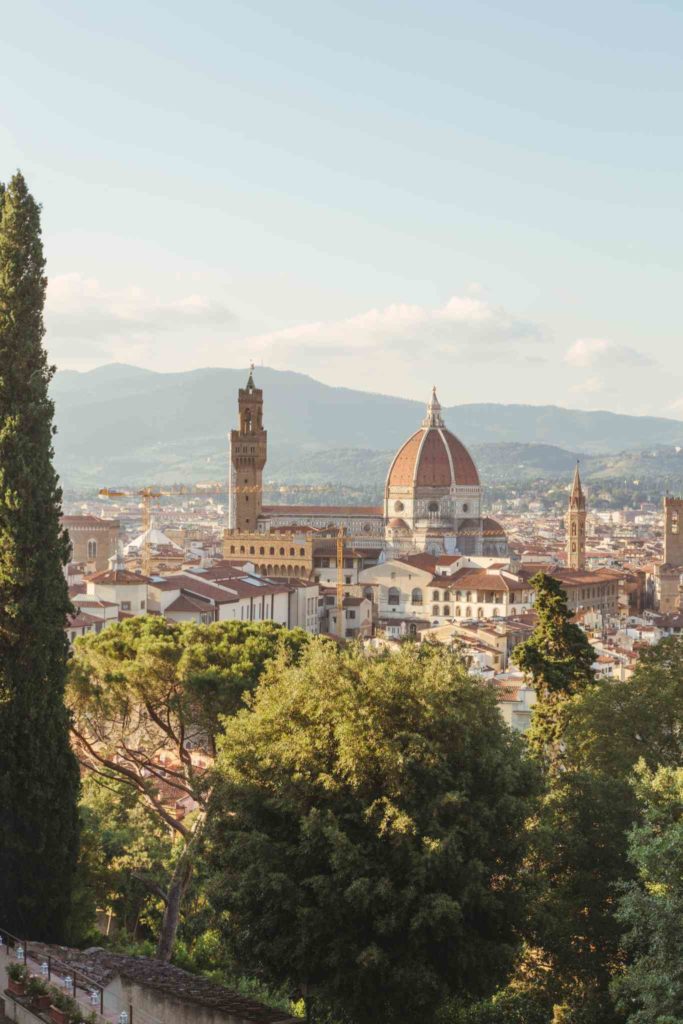 American author, Mark Twain, once wrote, "to see the sun sink down, drowned on his pink and purple and golden floods, and overwhelm Florence with tides of color that make all sharp lines dim and faint and turn the solid city to a city of dreams, is a sight to stir the coldest nature." He wasn't the first writer to remark on the immense beauty of the Florentine sunset, and he probably won't be the last! Learn how to make the most of a two-day trip in Tuscany's capital, and explore Florence with AESU!
Galleria dell' Accademia 
Wake up early, sip a foamy cappuccino, and savor a flaky pastry to begin your adventure. Slip on a pair of comfortable walking shoes, and head to the Galleria dell' Accademia to see Michelangelo's David! The Galleria can become busy during peak hours, so it's best to arrive as soon as it opens to maximize your time. David may be the highlight of the show, but there are several priceless masterpieces also worth enjoying!
Duomo di Firenze 
The Duomo di Firenze was built in 1436, and considered the most iconic cathedral in Florence! The elaborate structure is surrounded by must-see museums including the bell tower, baptistery, and underground ruins located below the Duomo. Travelers could easily spend an entire day exploring the interior and exterior of the Duomo, but we recommend limiting your visit to two to three hours for the sake of time! 
Fontana del Porcellino 
If you want to leave Florence with a souvenir, walk down the Piazza Della Repubblica toward the Fontana del Porcellino. The streets are filled with high-end shops, street artists, locals, and travelers! You may come across a large, bronze boar in the center of it all. According to local legend, rubbing the boar's nose will guarantee your return to Florence! 
Piazza Della Signoria 
After two years of intense work, the famous Fountain of Neptune has been restored! Explore the Piazza Della Signoria, home to the fountain and an open-air museum filled with breathtaking statues. Purchase a scoop of gelato, and stroll through the piazza in search of Tuscan cuisine! 
Explore Italy With AESU
AESU offers unique, thrilling travel programs for college students and young professionals at affordable rates. Each trip is action-packed and informal—designed just for people your own age. We are also able to design custom tours just for your group.
AESU offers several trips to Italy, including Cosmopolitan, Explorer, Euro Focus, Great Escape, Viva Italia, and Euro Spree. Explore Italy and its interesting culture, plus experience some of the greatest food and wine in Europe!
If you have any questions or want help booking your Italy adventure, please contact AESU by calling 800-638-7640, or fill out the contact form found on our website